ABOUT US
Colin Usher & Co began manufacturing headwear for schools and colleges throughout Australia in 1970, after a short, but illustrious career, manufacturing jeans and bikinis.
All the components, fabrics and manufacturing techniques used in all of our headwear have been developed and tested extensively, in the toughest arena in the world, "The School Playground".
We have always had to compete with cheaper imported headwear. So we developed a niche market, for customers who want a quality product, designed to do the job the wearer intended.
We have achieved this with: a unique combination of the best Australian fabrics; a diversity of styles to suit all head and face shapes; and a quality of manufacture that is second to none.
Because of our climate, Australians participate in an enormous diversity of outdoor activities in all types of weather conditions. That is what makes Australia a perfect place to develop HEADWEAR that WORKS.
The FUNNEL WEB Range was developed over a 10 year period, in response to demands from customers, who wanted good quality cloth hats & caps that are specifically designed for the Australian environment.
As well as Schools and Colleges, we now supply Department Stores, Specialty Hat Shops, Outdoor and Camping Shops, Sailing Shops, Souvenir Shops, Mower and Workwear Shops throughout Australia.
It has often been remarked by international customers in these outlets, "we have nothing like the style and quality of the FUNNEL WEB Headwear Range, available in our home country".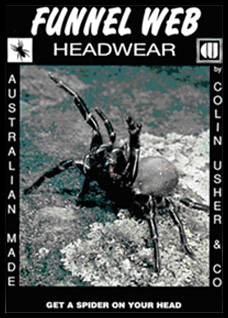 Poster (60cm x 40cm) for sale
$15.00 AUS
WHY FUNNEL WEB?

» It's a very Australian and an internationally recognised name.

»They come from Sydney and so do we.

»The spider logo stands out amongst its competitors.

»Whether they are arachnophobic or not, people still turn and look at our advertising, brand name and logo.

»The Funnel Web Spider and FUNNEL WEB Headwear are both the best at what they do.